Zinc Plated Wire Mesh Fireplace Curtains
Wetter is a China manufacturer and supplier of wire mesh curtains for fireplace screen made of galvanized wire mesh at economic cost compared with the Stainless Steel Fireplace Screen Mesh.
The zinc coated wire mesh curtains or mats have an opening of 25 mm made according to DIN EN 10223-2 standard.
Application: Wired mesh mats for heat insulation and fire sparks protection.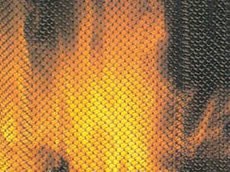 Wire Mesh Specification:
Hexagonal zinc-plated wire mesh with a mesh width of 25 mm, made of zinc-plated wire according to EN 10016-2. Tolerances according to DIN EN 10223-2 Table2.
Declared diameter of the wire (mesh- and edge wire): 0.7 mm ± 0.08mm
Edge wire: 1 wire per edge
Zinc coating of the wire 30 g/m² wire surface
Length of wire mesh roll: 3000 or 3600 m(-0/+5m)
Maximum outer diameter per spool: 1200mm
Mesh width: 1200 +2.5/-10mm
Requirements of Tube and Installation of Wire Mesh Rolls to the Tube:
Spools per tube: 1
Minimum length of the tube: flush with the width of the wire mesh
Maximum length of the tube 1060mm
Inner diameter of the tube/ wall thickness: 203/ minimum 15mm
Fastening:The wire mesh is fastened to the tube by max. 2 cramps
Winding: The wire mesh roll have to be rolled up tightly with no core displacement. The width tolerance of the winding is max. 10mm. The winding has to take place cylindrically, each part of the width has the same diameter (+/- 5mm).
Packing:
The rolls must be secured against shifting on the pallet with wooden wedges and must be strapped with security band. The security band has to be underlayed with cardboard stripes along the whole contact area between board and wire mesh.
Labeling/ Quality check list
Each delivery unit must have 2 labels. One label is fixed visible on the outside and the second is taped to the inside of the tube. The labels give the following information:
- Product name, manufacturer, date of production
- Width, roll length, roll weight
Additional to the labels each delivery unit must have a quality check list with a documentation of the end control on the supplier side.

Send Your Inquiry