Stainless Steel Wire Mesh Fireplace Screen Mat
Wetter supplies two types of Wire Mesh Mats / Curtains designed for sparks protection from the fireplace and heat insulation. One is made of stainless steel wire mesh with an opening of 25mm according to DIN EN 10223-2 standard, the other type is zinc plated galvanized wire mesh mat.
Application: Wire mesh mats for heat insulation and fire protection.
Opening Types: Hexagonal.
Supplying Types: Hanging Curtains.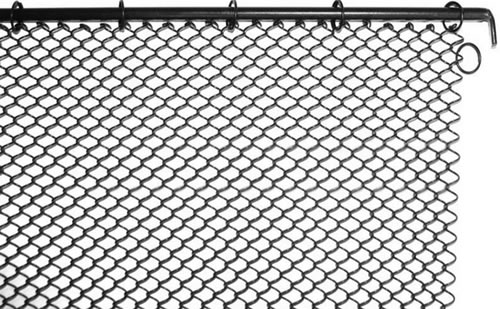 Wire Mesh Specification:
Hexagonal stainless steel wire mesh with a mesh width of 25 mm, material No. 1.4301. Tolerances according to DIN EN 10223-2 Table 2.
Declared diameter of the wire (mesh- and edge wire)0.66 mm(+ 0.02 mm; - 0.01 mm)
Edge wire:1 wire per edge
Length of wire mesh material 2000 m (TBD) (- 0m, + 5 m)
Maximum outer diameter per spool: 1200 mm
Mesh width: 1200 mm(2.5 mm; - 10 mm)
Tube Specification and Installation of Wire Mesh to the Tube:
Spools per tube: 1
Minimum length of the tube flush with the width of the wire mesh
Maximum length of the tube 1260 mm
Inner diameter of the tube/ wall thickness 203/ minimum 15 mm
Delivering unit 2 roll per tube
Fastening: The wire mesh is fastened to the tube by max. 2 cramps.
Winding: The wire mesh roll have to be rolled up tightly with no core displacement. The width tolerance of the winding is max. 10mm. The winding has to take place cylindrically, each part of the width has the same diameter (+/- 5mm).
Packing: The wire mesh rolls must be secured against shifting on the pallet with wooden wedges and must be strapped with security band. The security band has to be underlayed with cardboard stripes along the whole contact area between board and wire mesh.

Send Your Inquiry