316 Stainless Steel Wire Mesh
316 ss wire is high grade stainless material with excellent corrosion resisting and heat resisting properties. This wire material is used typically in making of high quality ss wire meshes: welded wire mesh, crimped mesh screen and woven wire. In this page, we mainly introduce 316 Woven Type Stainless Steel Wire Mesh for Screening of solid particles, powers and dust, etc. Compared with ss 304 wire mesh, 316 woven wire costs high and can be made into finer meshes for more precise filtering uses.
316 Stainless Steel Wire Mesh for Screening
Material: SUS304, 304L, 316, 316L
Weave Type: Plain weave, Dutch plain weave, twill weave, Dutch twill weave
Feature: This kind of standard wire mesh has firm structure, high strength and great wear resistance. It is suitable for tough working conditions like vibrating screen.
Application: SS 316 wire mesh is used in screening and separation in mine, coal, grain, medicine, ceramic, glass, food, scientific research and other fields.

SS 316 Square Hole Wire Mesh, 200x200 Mesh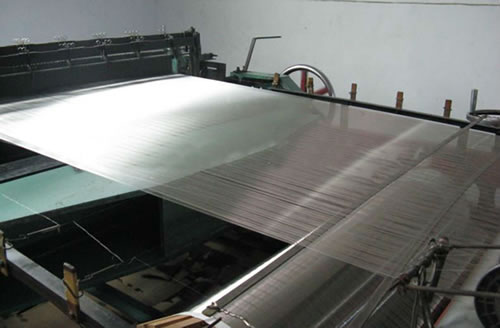 Weaving Machine for Stainless Steel 316 Wire Mesh, Plain Weaving
Specification List of 316 Woven Wire Mesh Screen
Mesh/Inch
Wire Gauge(SWG)
Aperture in mm
3mesh x 3mesh
14
6.27
4mesh x 4mesh
16
4.27
5mesh x 5mesh
18
3.86
6mesh x 6mesh
18
3.04
8mesh x 8mesh
20
2.26
10mesh x 10mesh
20
1.63
20mesh x 20mesh
30
0.95
30mesh x 30mesh
34
0.61
40mesh x 40mesh
36
0.44
50mesh x 50mesh
38
0.36
60mesh x 60mesh
40
0.30
80mesh x 80mesh
42
0.21
100mesh x 100mesh
44
0.172
120mesh x 120mesh
44
0.13
150mesh x 150mesh
46
0.108
160mesh x 160mesh
46
0.097
180mesh x 180mesh
47
0.09
200mesh x 200mesh
47
0.077
250mesh x 250mesh
48
0.061
280mesh x 280mesh
49
0.060
300mesh x 300mesh
49
0.054
350mesh x 350mesh
49
0.042
400mesh x 400mesh
49
0.0385
500mesh x 500mesh
50
0.0273
Roll width: 2"-8"
Popular 316 Square Wire Mesh Case Studies:
1. SS 316 20x20 Mesh x Wire Dia. 0.020 inch:
Specifications:
wire mesh,metallic,no mod,
Material: sus 316 ss -w1
Mesh size: 20 x 20 mesh per linear inch
Strand size/ wire diameter: 0.020 in

Description:
Wire-mesh screen, stainless steel, sus 316-w1 (in 40" wide, in running lengths of custom size)

Uses: For sifting and sizing.

2. SS 316 Wire Mesh 18 x 18 Mesh, Wire Diameter 0.023 inch:
Specifications:
Wire mesh,metallic,no mod
Material: sus 316-w1
Mesh size: 18 x 18 per linear inch
Roll size: width: 40 inch
Strand size / wire diameter 0.023 inch in
Type: mesh netting

Description:
Wire-mesh, stainless steel, sus 316-w1 (in 40" wide, in running lengths that can be cut at custom size), with bright surface finish, square shaped aperture.

Send Your Inquiry